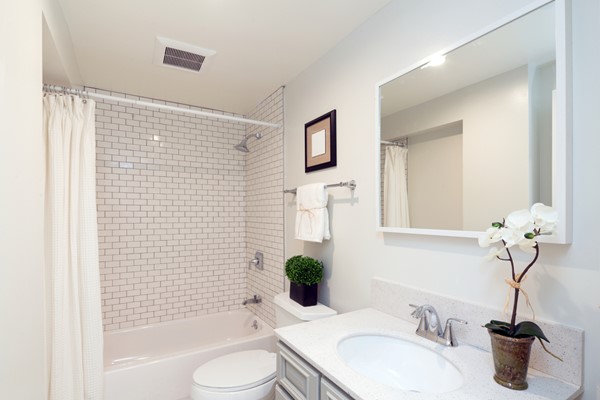 Finding someplace to live can come with a long list of must-haves for each person contributing to the decision. The types of bathroom space can be a deal breaker for otherwise wonderful properties. The number of people utilizing those bathrooms and each person's daily schedule necessitates the requirement of the bathroom space. 
What is out there
Searching and checking off all the must-haves takes time and a lot of communication. Most places have at least one full bath that has a tub and shower or a combination of both. Older homes may not have a dedicated master bathroom, but instead, have what is called an en-suite bathroom. This arrangement means there are at least two entry points one from the master and the other from a hallway. The layout can separate the tub and shower from the rest of the space so more than one person can utilize the facilities at one time. This plan may not be quite as convenient to a household that tends to have similar schedules. Or messy people that leave things lying around in the bathroom, which makes for a combative living arrangement. In those cases, a dedicated master bathroom might be your answer.
Master bath
Having a separate bathroom off a bedroom can feel like an oasis from the pressures of your day. Often, they boast extra amenities like a full-size soaking tub or a walk-in tile shower or both. A master bathroom can give you efficiency during the morning and evening routines since you don't have to share the space with the entire household. Options can include double sinks, a water closet (toilet in a separate room with a door), connecting to a walk-in closet and radiant flooring to keep your toes warm on cold mornings. Master bathrooms don't have to be super luxe to feel like a separate private space. They are a good idea if you need to get away without leaving home.
Jack and Jill
Another bathroom layout that not often seen in newer homes is the Jack and Jill bath. This design consists of a full bath between two bedrooms. This layout may have a door separating the shower/tub from the rest of the bathroom, too, allowing more than one person to use the bathroom at the same time similar to the en-suite layout. All the above-mentioned bathroom layouts need consideration when you are looking for a new living space.
Contact your realtor for more information on the options for bathroom layouts in your area.